Health Care

Members Taking Consensus on Health Care in Alabama - Local League reporting deadline Nov. 30, 2013



LWVAL calls for transparency, accessibility, and public participation from the AL Public Service Commission


AL Public Service Commission set to hear from Alagasco and public in upcoming hearings LWVAL encourages public participation in the review process. These public meetings reported by al.com:
Sept. 5 - Montgomery - PSC will hear from Alagasco about its operations and economics of the natural gas industry.
Sept. 25 - Auburn - In PSC day meeting Alagaco presents pipeline safety and corporate risk. At night meeting, there will be a public forum/ Alagasco customer feedback.
Oct. 9 - Montgomery - Public discussion with PSC of Alagasco rate structure and Rate Stabilization and Equalization agreement.
Read
al.com's coverage of the PSC's actions
. LWVAL encourages transparency and citizen participation in this review process.
Alabama Public Service Commission holds public hearings in Tuscaloosa on June 18
LWVAL will speak. AL citizens are encouraged to attend.
NOTE: An update on the proceedings of the public hearings will be posted here soon. Read the
LWVAL statement before the PSC
regarding the "Operation and Utilization of Rate RSE (Rate Stabilization and Equalization) of Alabama Power Company" presented on June 18.

On
Tuesday, June 18, 2013, Alabama Public Service Commission meetings
will be held at the University of Alabama Law School in Tuscaloosa in the Moot Court Room. At the 6:00 p.m. meeting, Scarlett Gaddy, Co-president of the League of Women Voters of Alabama, will read a statement on behalf of the LWVAL. [That statement will be posted here after the presentation.] Board member Joyce Lanning will represent the League as a participant in the 2 p.m. hearing. Several other members of the LWVAL Board will observe the PSC meetings, including Vice-president Kathy Byrd, and Directors Barbara Caddell and Myra Evans. All Alabama citizens are encouraged to attend and participate in these public hearings. The next and final Alabama Power proceedings will be in Montgomery on July 17 and possibly 18.
The LWVAL has been active for over six months working to bring about "better transparency, accountability, and citizen participation for the energy future of Alabamians." Dr. Lanning has been an observant presence at PSC meetings. Critical questions by Lanning and others have encouraged public examination and review of PSC procedures. Co-President Leonette Slay and former President Mary Lynn Bates have represented the LWVAL when meeting with the Commissioners and their representatives. LWV Mobile Vice-president Gina Finnegan and Director Barbara Caddell (also LWVAL Board members) have been instrumental voices in rate structure and transparency discussions. They well represented the League in the first PSC meetings in Mobile and Montgomery concerning Mobile Gas. Documents have benefited from Board member Hattie Kauffman's review.
The League's efforts have effectively encouraged the PSC to move toward greater transparency and much needed procedural changes. As reported by al.com in
this article
and
this article
, videos of PSC meetings will be available to the public on the
PSC web site
. The articles also note that "substantial changes" in the rate review process are now expected. The League's work is expected to yield even broader future benefits. As Lanning explained, "The time and energy so many [LWVAL leaders] have put into expanding transparency and citizen participation at the Public Service Commission may well be rewarded with a more informed and participatory energy decision process for Alabama."
The PSC will hold "Public Proceedings to Consider the Further Extension and/or Modification of Alabama Gas Corporation's Rate Stabilization and Equalization Mechanism" on September 5, 25, October 9, and November 13 in Montgomery. For more information see this notice on the AL PSC website.

LWVAL Speaks Out on Charter School Legislation
March 31, 2012

Over the past year, charter schools has been a much debated issue in Alabama, and the Alabama legislature is currently considering charter schools enabling legislation. After an in-depth study lasting almost one year, the League of Women Voters of Alabama has published its position on this issue.

The LWVAL did not take a position on whether legislation authorizing charter schools in Alabama should or should not be passed. However, its membership believes that enabling legislation should require that charter schools meet certain minimum requirements for establishment, open access, transparent regulation and oversight, and academic accountability.

Read the LWVAL issue position on charter schools.

Download the position (pdf) for printing.

Read the LWVAL press release issued 4/12/12.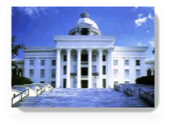 2012 First Special Session of the Alabama Legislature


2012 First Special Session Convened Thursday, May 17.
LWVAL Legislative Report on the 2012 First Special Session
Final update posted May 25, 2012

2012 Regular Session of the Alabama Legislature
Convened Tuesday, February 7, 2012
Adjourned Sine Die Wednesday, May 16, 2012.

2012 Regular Session LWVAL Legislative Report
Final Report update posted May 19, 2012.

During the sessions of the Alabama Legislature, LWVAL keeps citizens informed about the Alabama Legislature's activities regarding issues of importance to the League through its LWVAL Legislative Report. For each bill, the report includes bill sponsors, bill summary, complete bill text, current status of the legislation, LWVAL's position on the legislation, and LWVAL's action. See the 2012 LWVAL Legislative Priorities list for the issues on which the LWVAL Action Team will be focused during the 2012 Regular Session and any subsequent Special Session.