League of Women Voters of Alabama
State Convention 2017
April 28 Early Arrival
April 29-30 Convention
Hampton Inn & Suites
Mobile Downtown Historic District
62 South Royal Street
Mobile, AL 36602

Get more LWVAL Convention 2017 information.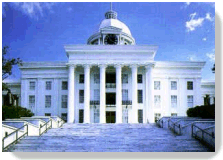 LWVAL 2017 Regular Session
Legislative Report

Read the Report

Updated April 22, 2017.
____________________________________

LWVAL Call to Action
(Issued April 22, 2017)

Please call your representative to
oppose bad lending bill HB314.


The League of Women Voters of Alabama, along with the Southern Poverty Law Center and Alabama Arise, opposes HB314 and its companion bill in the Senate, SB249. HB314 will be considered by the State House of Representatives on Tuesday, April 25. We need your help to stop this bill from going forward. Please call your representative in the state House and ask him or her to OPPOSE this bad lending bill. (Find your representative.)

HB314 would expand the Small Loan Act to include loans of up to $1500 (instead of $1000). It places these loans on a more expensive rate basis and tacks on some additional costs. The interest rate of loans covered by HB314, currently about 30%, would increase to up to 174%. We recommend an interest cap of no more than 36%. Passage of this bill would make borrowing more expensive for low income people.

Thank you for taking action to oppose HB314 before Tuesday, April 25th!

-- LWVAL Action Team


LWVAL voices support for legislation that would strengthen payday lending regulation
The LWVAL has voiced its support for
HB321
. This bill would set a maximum interest rate a lender may charge an individual on a consumer loan, line of credit, or other financial product at 36 percent per annum, as defined by the Federal Reserve Board in Regulation Z of the Truth in Lending Act, and states that the Legislature may not by general or local law authorize an interest rate of more than 36 percent per annum.

The LWVAL believes that there should be a cap of 36% on lending on payday loans. This legislation calls for that cap and applies to other types of loans. If passed it should stop the development of new instruments that seek to use exorbitant rates of interest. Additional legislation is still needed to protect consumers from exorbitant fees and special charges.

HB321 is presently in the Alabama House Committee on Constitution, Campaigns and Elections.
Follow the progress of HB321 here
in the LWVAL Legislative Report. Please stay alert for any future call to action on this legislation.


The 2017 Regular Session of the Alabama Legislature convened on Tuesday, February 7, 2017.
During
the 2017 regular session of the Alabama Legislature, LWVAL will keep citizens informed about the legislature's activities regarding issues of importance to the League via this
2017 Legislative Report
. The report is updated weekly (with some exceptions). For each bill, the
report includes bill sponsors, bill summary, complete bill text, current status of the legislation, LWVAL's position on the legislation, and LWVAL's action. Action Alerts urging citizens to contact their legislators will be posted in this report at times when their voice will be most effective. See the
LWVAL 2017 Legislative Priorities
list for the issues on which the LWVAL Action Team will be focused during the 2017 regular legislative session.
The
LWVAL 2016 Legislative Report
remains posted for your review, along with the
First Special Session
of 2016.