Alabama Senate Primary Special Elections - August 15, 2017
Candidate information and more coming soon to www.Vote411.org!
Mark your calendar with the following important election dates.
July 31

- Voter registration deadline.

Register online here

.

Auguust 10

- Last day for voter to make application for an absentee ballot.

August 14

- Last day for voter to hand-deliver or postmark an absentee ballot.*
Vote411.org is LWV's respected election information website. Visit www.VOTE411.org soon to find your polling place, check voting hours, learn about the 18 Democratic and Republican candidates seeking election to the Alabama US Senate seat, and read tips about voting in Alabama. Vote411.org is supported by our Education Fund. We never support or oppose any candidate or political party. The candidates are currently uploading their biographical information and answers to our voter guide questions. Vote411.org will launch soon! STAY TUNED!


*Except for persons casting absentee ballots pursuant to the Uniformed and Overseas Citizens Absentee Voting Act (UOCAVA voters). For those voters, ballot receipt deadline is August 23. Ballot must be postmarked no later than Election Day.


The League of Women Voters is
"Connecting, Engaging and Leading
for 2020 and Beyond:
A Transformational Journey"

LWV Statement on Trump's
"Election Integrity Commission"
Washington, DC – The League of Women Voters president,
Chris Carson
issued the following statement in response to reports that President Trump will announce an election commission to investigate false claims of widespread voter fraud in American elections:

"President Trump's executive action today [5/11/17] announcing an Election Integrity Commission is an unnecessary distraction from the real work to protect against foreign hacking and interference in our electoral process. The real purpose of this effort is to justify President Trumps' false claims of widespread voter fraud in the 2016 elections…." Read more.
League of Women Voters of Alabama Supports the
Women's Suffragist Memorial!
You can, too!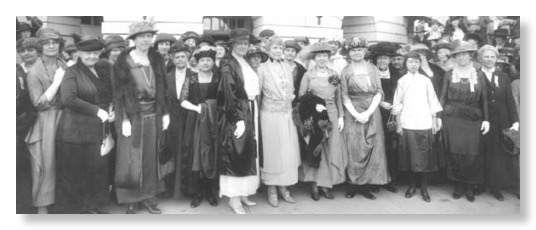 HONOR THAT SPECIAL WOMAN
IN YOUR LIFE!
(Mom doesn't need another scarf. Just sayin'.)


Remember that special, inspirational woman in your life with a gift to the LWVAL Women's Suffragist Memorial Fund. You can specify your gift as an honorarium or as a memorial gift. Click the "Donate" button below to make your gift, and then tell us about your honoree and whom we should notify about your generous gift.


OR… Would you rather mail your gift?

If you would rather mail your donation, make your check out to "LWVAL Education Fund" and note in the memo line "LWVAL Women's Suffragist Fund." Mail your check to:
&nbsp&nbsp&nbsp&nbsp&nbsp LWVAL Education Fund
&nbsp&nbsp&nbsp&nbsp&nbsp c/o Lella Lowe, Treasurer
&nbsp&nbsp&nbsp&nbsp&nbsp 2609 Shay Court
&nbsp&nbsp&nbsp&nbsp&nbsp Mobile, AL 36695

If your gift is an honorarium or memorial please submit this information form or include a note with that information so that we can inform the honoree or loved ones. Your donation is 100% tax deductible.


What will the memorial look like? See the

ABOUT THE MEMORIAL

The League of Women Voters of Alabama is collecting and donating funds for the construction of the Women's Suffragist Memorial to be located in Occoquan Regional Park and the National Register listed DC Workhouse and Reformatory Historic District. This site is adjacent to the Occoquan Workhouse where Alice Paul, Lucy Burns and 211 other suffragists were imprisoned for picketing on behalf of women's suffrage at the White House gates. It was in the Occoquan Workhouse that the suffragists went on a hunger strike in protest of their treatment and the continued practice of denying women the right to vote. These women were force fed repeatedly during their stay. The United States Supreme Court later ruled all 213 arrests to be unconstitutional in violation of the First Amendment. A donation from the League of Women Voters of Alabama Education Fund in the sum of $1000 will ensure Alabama Leagues are recognized on the donation wall of the Memorial. Please help us reach this goal by donating to our Women's Suffrage Memorial Fund. Your donation is 100% tax deductible.


We will remember their sacrifice for our right to vote!
Thank you for your donation!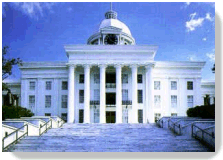 LWVAL 2017 Regular Session
Legislative Report

Read the Report

Last updated May 20, 2017

The 2017 Regular Session of the Alabama Legislature
adjourned Friday, May 19th sine die.

During the 2017 regular session of the Alabama Legislature, LWVAL kept citizens informed about the legislature's activities regarding issues of importance to the League via this 2017 Legislative Report. The report was updated weekly (with some exceptions). For each bill, the report includes bill sponsors, bill summary, link to complete bill text, current status of the legislation, LWVAL's position on the legislation, and LWVAL's action. Action Alerts urging citizens to contact their legislators were posted in this report at times when their voice would be most effective. The LWVAL 2016 Legislative Report remains posted for your review, along with the First Special Session of 2016.