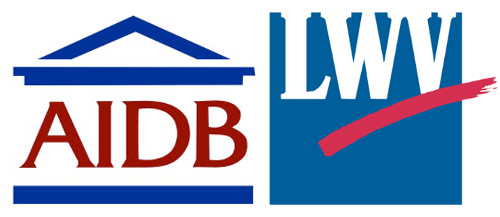 AIDB Election Workshop
AIDB BIRMINGHAM REGIONAL CENTER
220 34th Street
Birmingham, AL
Friday, August 19, 2016
1:00 p.m. - 3:00 p.m.

Why should you vote?
Are you registered to vote?
How could voting change your life?

The League of Women Voters of Alabama and Greater Birmingham will present an election workshop at the Alabama Institute for Deaf and Blind (AIDB) Regional Center on August 19, 2016, 1:00 - 3:00 p.m. to answer these questions. The focus will be on why it is important to vote and the costs of non-participation. There will also be a short section on getting public officials' attention to influence public policy. Voter registration service and assistance will be available. A voice interpreter will translate. This workshop is a free service for all.

For questions or more information, contact Lozynsky.Wendy@aidb.com or VP 205 623-0072.





LWVAL 2016 First Special Session
Legislative Report
Reporting on the 2016 First Special Session
of the Alabama Legislature

Read the 2016 First Special Session Legislative Report


Alabama Governor Robert Bentley has called for a special session of the Legislature to propose a constitutional amendment that would establish a state lottery. The special session will convene on August 15, 2016. If passed by the legislature, the constitutional amendment referendum will be on this Fall's general election ballots, and Alabama citizens will decide whether the state will have a lottery when they go to the polls on November 8.

According to the Washington Post, Alabama is facing a $200-$300 million shortfall and $700 million if state loans are included. Bentley proposes that a lottery will resolve the state's financial problems by raising $225 million or more. The governor has stated that the most pressing need is funding for the Alabama Medicaid Agency. The budget passed in the 2016 regular legislative session leaves the agency with an $85 million shortfall. According to an al.com article dated July 29, 2016, Governor Bentley said, "I will not, as your governor, and also as a physician, watch as our most vulnerable and most helpless, go without a doctor's care.

"I can't bear to think of a half a million children who through no fault of their own are born into poverty and have no way to get basic medical treatment that they need to grow and to be healthy and strong."

The League of Women Voters of Alabama will keep members and the public informed about legislation introduced in the special session. Read the LWVAL Special Session Legislative Report regularly for updates. For each bill, the report includes bill sponsors, bill summary, complete bill text, current status of the legislation, LWVAL's position on the legislation, and LWVAL's action. Action Alerts urging citizens to contact their legislators will be posted in this report at times when their voice would be most effective.

LWVAL's coverage of the 2016 regular legislative session remains posted for your review.



League of Women Voters of Alabama to hold informational meeting in Montevallo, AL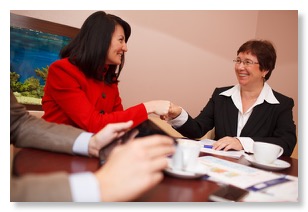 Good news, Shelby County! The League of Women Voters is coming your way. On Saturday, July 23rd, there will be a meeting for those interested in becoming LWV of Alabama members-at-large in Shelby County. The meeting will be at 10:00 A.M. at the Parnell Memorial Public Library at 277 Park Drive in Montevallo. We will explain our work and answer your questions. We are particularly focusing on the municipal elections coming up August 23rd, and why local elections are so important to our day-to-day lives. (We never support any candidate or political party.) We welcome all people aged 16 or older to join the League. Men, too! A strong contingent of Leaguers with the energy and enthusiasm to make democracy work could lead to the establishment of a local League of Women Voters in Shelby County! Interested? Come on out! Find out more about the League of Women Voters and this meeting by contacting Kathy Byrd at kcbyrd@aol.com or phone/text 205-394-5852. Visit us online at
http://www.lwval.org/



How do we "Make Democracy Work" in Alabama? The League of Women Voters of Alabama grows, empowers, and protects the vote! This video shows exactly how we get that done. Like us on Facebook @LWVAL. Follow us on Twitter @LWVAL. And JOIN US to help make that happen!


LWVAL goes forward to study a pressing public issue, examines state of voting rights and media relations
A look at LWVAL Council 2016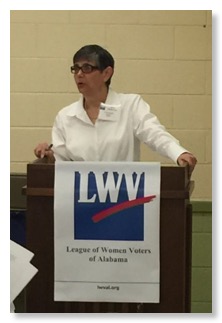 Should the League of Women Voters undertake a new study of a concerning public issue? What is the current state of voting rights in Alabama? And how should Leagues interact with the media? There was much to be considered by those who attended the LWVAL 2016 Council. The council was held at the Unitarian Universalist Fellowship in Montgomery, AL on May 14, 2016. Carrying out the business of the League, delegates voted to study the issue of payday loans in Alabama. It was suggested that online payday loan operations and loans incurred by those in legal jeopardy might be included in the research. However, the League hopes to have an established position on this issue in place by the next general AL legislative session. Members therefore voted to limit the study to storefront payday loan businesses in the state.


Delegates and guests discussed voter registration and ID and issues concerning voting accessibility with expert panelists. Panelists were Ed Packard, Director of Elections, Election Division, Office of Alabama Secretary of State; Stephen Stetson, Policy Analyst (Consumer and Human Rights Issues), Alabama Arise Citizens' Policy Project; and Geron Gadd, Senior Staff Attorney, Alabama Disabilities Advocacy Program (ADAP). The panel was moderated by Hattie Kaufman of the League of Women Voters of Greater Tuscaloosa.

In the afternoon, attendees heard from renowned Alabama journalists. LWVAL leaders were interested to learn about best practices for interaction with the media, garnering event coverage, and the current state of print, broadcast, and online journalism. Guest panelists were Charles L. "Chuck" Dean, Journalist, Alabama Media Group and The Birmingham News; Carol Nunnelley, Journalist and Founder, Alabama Initiative for Independent Journalism and Birmingham Watch.org;Rachel Lindley, News Director, WBHM, 90.3 FM (NPR Birmingham); and Troy Turner, Editor, Opelika-Auburn News. The panel was moderated by Jean Johnson of the League of Women Voters of Greater Birmingham.

Many thanks to LWV of Montgomery, host League, for your warm hospitality, and to LWVAL Board for an outstanding council.

See the photos.