Are You on Facebook Yet?
by Scarlett Gaddy, LWVAL 2nd VP & Membership Chair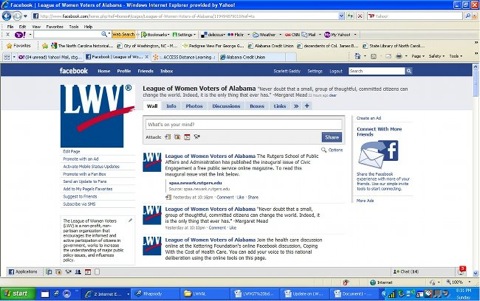 Screen shot of the LWVAL Facebook web page

Have you become a fan of LWVAL on Facebook? LWVAL recently launched its Facebook page and we're really seeing some interesting results. Our page has 86 fans and the breakdown is Male 17% and Female 81%. A very interesting statistic is the number of fans below the age of 35 at 31%. (Under age 45 – 50%) These are target age groups for the page. The age breakdown is located in the table below: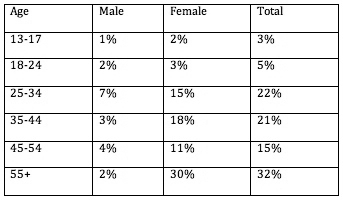 The city with the most registered fans, Birmingham has 24, followed by Tuscaloosa with 11 (- a number of these are young men and women). We have representation from one end of the state to the other and several out of state fans including two LWVUS officers (Dianne Wheatley Giliotti of Tampa Bay Fl, and Martha Patzer of Washington, DC.). A sampling of the cities represented includes Mobile, Fairhope , Dothan, Montgomery, Auburn, Huntsville, Univ of Alabama, Univ of So Alabama, Samford, Vanderbilt Univ, San Francisco CA and even one in South Korea. This is the beauty of the Internet, you can have fans from anywhere in the world. There is also another LWV chapter registered as a fan. As a comparison to other LWV pages, we are doing quite well. We have less fans than LWVUS (2130 fans), but are in the upper end for the state and local pages. The largest number of fans on any state page is Minnesota (187), followed by Utah (149), and Maine (130). We have more fans than most.

So what does the page contain and why should you join? Facebook is a great way stay updated with the latest information available. This includes information from LWVUS. Action alerts and other information gleaned from the LWVUS web site is posted along with information from other nonpartisan and informative sites. Links to visit these sites are provided. Each state and local Voter published can be posted making it easy to keep up with fellow Leaguers from across the state. Make sure to send a copy of your latest publication to sbgaddy@yahoo.com to have it added to the page.

Joining and participating on the page encourages cohesion within our organization and draws the interest of non-members who may be motivated by what they see to join LWVAL. Help us recruit new members by participating. To join you may go to the LWVAL site and click on the Facebook logo or you may go to League of Women Voters of Alabama | Facebook or http://www.facebook.com/pages/League-of-Women-Voters-of-Alabama/119494879019 . Just click on "become a fan of this page" or follow the directions to sign up for a Facebook page to join. You may only become a fan and receive Facebook notifications of new information posted on the page if you are a member of Facebook. If you prefer to only visit the page and not become an official Facebook member, you may visit it and view the content by searching League of Women Voters Facebook page on your favorite search engine. For questions about joining our page contact Scarlett Gaddy at sbgaddy@yahoo.com . Help us break 100 fans before the next Voter is published!