Citizenship with a New Twist
by Scarlett Gaddy, LWVAL 2nd VP & Membership Chair

How do you teach 11th and 12th graders about the creation and implementation of public policy? While making public policy is just our "cup of tea," most high school students do not feel the same. As a generation, they are called millennials and their characteristics include a proficiency in the use of technology and all forms of social media. So, back to the original question, how do you teach millennials about the creation and implementation of public policy? The answer is to utilize the tools with which they are most familiar.

My students have for the past four years been using wikis to collaboratively research and explore new concepts. A wiki is a web site, easily created, that enables many people to create, edit, and save data on the same page. You may be familiar with Wikipedia, the online encyclopedia. It is simply a wiki that anyone can edit. My students learn about the Alabama Legislature through the use of a wiki to which they add information about legislation proposed and considered in the Alabama House and Senate. Each student receives one bill from a mandatory list of selected legislation and chooses one more that interests him or her to post and update weekly as the legislation progresses through the House and the Senate.

This year we have expanded our wiki to include students from another school in the Tuscaloosa County School System. Brookwood High School is located approximately twenty-five miles from Hillcrest High School, but with the help of the Internet and social networking tools, we can work on the same project. Altogether we have 70 students researching legislation on Alison (the Alabama Legislative System Online) to keep us all updated. There are other requirements of the project, including writing an elected official at the state level or national level. With a little persistence, perhaps we can include a visit from one of our elected officials, or other political experts either through Skype in person or through discussion on the site's discussion page. Ultimately, this project accomplishes two goals, engaging students in active learning and providing instruction that encourages good citizenship.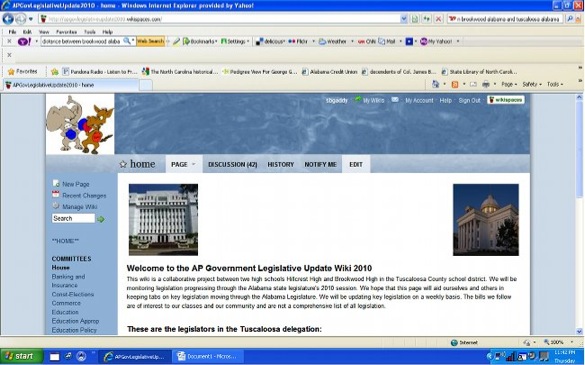 Screen shot of the Hillcrest High School / Hillcrest High School
AP Legislative Wiki


Want to know how a wiki works? Visit this site to see a short demonstration http://www.teachertube.com/viewVideo.php?video_id=20514

Visit our site and post to the discussion page if you wish. Site address:
http://apgovlegislativeupdate2010.wikispaces.com