"Open Secret"
A filmed re-enactment of the Alabama 1901 Constitutional Convention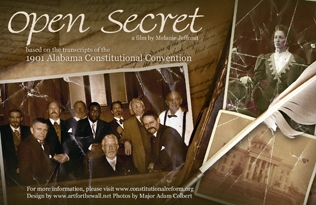 Alabama Citizens for Constitutional Reform, with the support of the League of Women Voters of Alabama, Greater Birmingham Ministries and the American Association of University Women of Alabama, has taken the official transcript of the 1901 Alabama Constitutional Convention and created a re-enactment, using actors in period costume, speaking the words of the 1901 delegates.
We filmed the half-hour re-enactment and named it "Open Secret" after some of the words used during that Convention. A woman, although not a delegate, and not allowed to vote in 1901, appealed to the men to allow women to vote. They turned her down. They also disenfranchised poor whites and Blacks in that memorable document. Their words will surprise you. The screenings of this re-enactment are being presented throughout Alabama beginning this month. All screenings are free and include a panel of guests to debate whether or not the Constitution should be changed, and the best way to do it. The audience is invited to participate in the discussion. Following are the screenings so far. More are anticipated.
If you would like to attend a screening or to schedule a screening in your area, go to
www.constitutionalreform.org
or e-mail
melanie@constitutionalreform.org
.
(No reservation required for the LWV Greater Birmingham screening on 3/24 or the LWV Mobile screening on 3/25.)
All screenings are open and free to the public.

Tuesday, February 23rd, at 6:30 p.m.,
Department of Archives and History, 624 Washington St. in
Montgomery
.
*
Friday, February 26th at 6:30 p.m.,
Historic Carver Theatre, 4th Ave. North and 17th Street in
Birmingham
.
*
Wednesday, March 24th at 11:30 a.m.,
Birmingham League of Women Voters Meeting, Alabama Power Electra Room, 600 North 18th Street in
Birmingham
(Reservation not required.)
Thursday, March 25th at 7:00 p.m.,
Dauphin Way United Methodist Church,
1507 Dauphin Street
in

Mobile
.
Hosted by LWV of Mobile. A panel discussion will follow the viewing. Senator Vivian Figures and Mayor Sam Jones have been invited to participate. If you have any questions please call 251-378-8378 or email
mmcginnis2008@yahoo.com
(Reservation not required.)
Tuesday, March 30th at noon
at the State Capitol Auditorium, 600 Dexter Avenue in
Montgomery
*
The premiere sessions in February will have a screening of "Open Secret" followed by a panel discussion.
Panel Participants:
Merika Coleman, Alabama State Representative (D) for District 57 (Jefferson)

Paul DeMarco, Alabama State Representative (R) for District 46 (Jefferson)

Moderated by Dr. Carol Ann Vaughn Cross, Core Curriculum Fellow, Samford University
More League News...