Programs Administered with State Funds
MEDICAID

Medicaid is a state administered program for low income persons currently directed by Carol Steckel who is appointed by the governor. Medicaid pays medical costs for eligible persons but provides no services. Federal minimum guidelines must be met by the states, though states may choose to exceed them. Since Alabama has extremely limited funds, the Medicaid agency has adopted minimum federal standards. Recipients must meet minimum income requirements established by the state.


How is Medicaid Funded?


The program is paid for by a 67.98% federal match to Alabama's 32.02% contribution. However, in 2009 and 2010 federal stimulus money provides for a 77% match which helps Alabama's budget deficit considerably. The Director of the Legislative Fiscal Office indicates that the Alabama Medicaid Agency will receive the largest amount of General Fund appropriations, $308 million, or 19.6% of the entire fund for FY 2010 but that this is an artificially low percentage because of the federal stimulus funds received. In 2009 Medicaid received an appropriation of $623.8 million from the General Fund, which represented 30% of the fund. When stimulus money became available the legislature reduced that amount. Medicaid will also receive other earmarked state funds in FY 2010 totaling $620.3 million. Because of the influx of stimulus funds the Legislature last year reduced Medicaid's appropriation by $165 million as well as appropriations to the Department of Public Health.

The Medicaid budget for FY 2009 was $4.5 billion. The budget for 2010 is slightly higher, $4.9 billion. This program has a major impact on Alabama's economy.


Who Qualifies?


Section 1931 of the Social Security Act requires states to provide Medicaid coverage to families who meet state criteria. The family must have dependent children living with them and must meet income limits. This program is called Medicaid for Low-Income Families (MLIF). Currently Alabama has opted to utilize the federal income requirements for eligibility which extend only to those families whose incomes are approximately 15% of the Federal Poverty Level (FPL). In 2009 the FPL for a family of three would be $18,310 income.

Persons who are elderly or disabled and who meet financial requirements can also be covered by Medicaid. If a person is poor but not elderly or disabled or is without dependent children, he/she will not be eligible for Medicaid.

Medicaid reports that with the beginning of the recession persons are qualifying at an increasing rate. In the 22 months since the recession began, Alabama Medicaid enrollment increased by approximately 100,000 people from 734,810 in December 2007 to 834,747 in October 2009. Beginning in December 2008, Alabama has averaged 4800 new Medicaid eligible applicants each month.


Most of the increase since December 2007 can be attributed to growth in Medicaid's SOBRA program which is for children, teens and pregnant women. This program grew by nearly 57,000. Individuals qualifying for SOBRA have incomes at or slightly above the poverty line, or about $29,328 annually for a family of four. The MLIF program grew by more than 12,600. At the same time, Medicaid's Plan First program, which provides family planning and birth control services to women who, if pregnant, would qualify for Medicaid has also shown tremendous growth with 16,800 additional recipients.
Some in the SOBRA program will qualify for the Women, Infants & Children (WIC) which is a supplemental nutrition program for pregnant women, breastfeeding women, women who had a baby within the last six months, infants, and children under the age of five.

Ms. Steckel noted in an interview that the rate of the increase has grown as the recession has continued and it is likely there will be a delayed impact on Medicaid even as the recession ends and the economy improves. She notes that for the first time, the agency is seeing an increase in the number of children who previously were served by ALL Kids, (to be discussed later in this report) whose families now qualify for Medicaid.


Where Does the Medicaid Money Go?


The following graph indicates where Medicaid funds are being spent.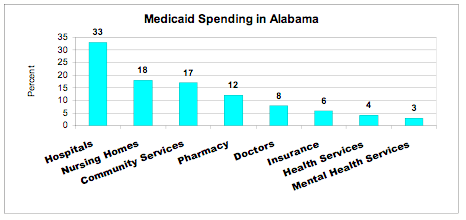 It should be noted that some physicians are refusing Medicaid (as well as Medicare) patients because of the low reimbursements they receive from those agencies.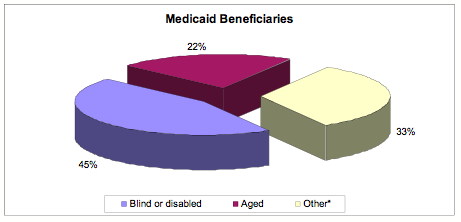 Who are the beneficiaries?


* Includes Medicaid for Low-Income Families (MLIF), pregnant women and children

The Kaiser Family Foundation released figures for medical care for neonatal and child birth provided by Medicaid in 2003. These figures indicate the percentage of those receiving such care that were on Medicaid.

Number

Percentage




of All Births

Alabama
26,105
45.5%
Georgia
67,637
60.0%
U.S.
1,495,261
41.0%
A representative of Medicaid reported that the administrative cost of the Alabama Medicaid program is 3% which is very efficient.


ALL Kids
In 1997 federal legislation was passed to provide health care to children of families who could not afford private health insurance. Known as CHIP (Child Health Insurance Program) at the federal level, Alabama now calls its program ALL Kids. The original U.S. legislation provided $24 billion in aid to be used over a ten year period. The program meets the demands of families with children who fall between those who can afford private health insurance and those just above the eligibility level for Medicaid.

Alabama was the first state to have an approved plan for CHIP. Cathy Caldwell is the state director of the program which is administered by the Alabama Department of Public Health and is contracted with Blue Cross/Blue Shield of Alabama for administration.


Qualification and Funding


CHIP covers children up to the age of 19. Each year, eligibility is reviewed. In 2009 the CHIP program was increased by Congress to include more children. Alabama's legislature increased funding by $11.2 million for FY 2010 with $7 million of this increase to extend coverage to children in families who have incomes greater than 200% but less than 300% of the FPL. This means that children within a family of four with an income between $44,101 and $66,150 will qualify for CHIP. According to the Department of Public Health, approximately 14,000 uninsured children in Alabama will qualify for this expansion. At the end of 2009, approximately 69,800 children were participating in the CHIP program with 1,925 of these enrolled as a result of the expansion. The percentage of uninsured children in Alabama dropped from 7.5% in 2007 to 4.4% in 2008. Parents may pay a fee for their children determined by their income. There is no waiting list and parents may apply on line.


What Health Care Is Included?


ALL Kids covers hospital services, sick/well doctor visits, immunizations, dental, vision care, prescriptions and mental health/substance abuse services.


DEPARTMENT OF PUBLIC HEALTH
The Department of Public Health is mandated to provide services for the improvement and protection of the public's health. Much of its work is in the areas of Prevention and Education. The State Board of Health serves as an advisory board in all medical matters. Dr. Don Williamson is the state health officer. Funding for the Department is passed each year by the Legislature and comes from the General Fund. When the fund runs short, services have to be cut. An organizational chart provided on the ADPH web site (www.ADPH.org) shows the various departments organized under Dr. Williamson. Each county has a Department of Public Health which administers a wide range of services. Most counties provide:


A. Cancer Detection for women over 40, underinsured or uninsured
This includes breast and cervical cancer screening, referrals for testing and surgery. Some funds are available to pay for these services but they usually run out before the year is over.


B. E
arly and Periodic Screening, Diagnosis and Treatment (EPSDT)

Alabama is one of the few states that screen for all nine disorders in addition to hearing loss as recommended by the March of Dimes. This includes PKU, sickle cell, etc. Tests are initiated at birth and coordinated through the State Lab by the local Health Department with the baby's family and doctor.


C. Immunizations/vaccinations

Immunizations for children and adult boosters are given at all county Health Departments. Flu vaccine and pneumonia vaccines are also available. Vaccinations for international travel, such as yellow fever, malaria and hepatitis are only available in a few counties and are quite expensive.


D. Prenatal Care

The department offers pregnancy testing, physical exams to verify pregnancy, counseling and referrals for Medicaid when applicable, and referral for prenatal care. Because malpractice coverage skyrocketed some ten years ago, many small town physicians stopped delivering babies. That is a problem in many rural communities. Some counties have no physician at all.


E. Family planning/birth control clinics
.
Anyone at least 14 years old is eligible and fees are based on income


F. Testing, treatment, referral and follow up for Sexually Transmitted Disease (STD), TB and HIV.


In most counties treatment medications are provided.

Other duties such as inspections of all food providers, vector control and abatement, inspection of pre/post installation of sewage disposal systems w/septic tanks, and inspection and follow up of illegal garbage dumps are required by law. In times of proration many inspection programs are reduced in frequency because of staff hiring freezes.

The Licensure and Certification Department, a state level office, inspects all nursing homes, assisted living facilities and home care agencies. This inspection is done at least once a year and is not just a visual inspection but includes personnel records, patient care records, etc. The department is also the keeper of health statistics: birth, death, marriage, divorce, and disease outbreaks.

The Health Department also has some responsibilities related to Homeland Security in cooperation with local hospitals.


ALABAMA DEPARTMENT OF MENTAL HEALTH
This agency is responsible for administering mental health programs for the state. Provisions for adequate and effective treatment were established under the Wyatt v. Stickney Act of 1972 that was finally settled in 2003. Under the legal settlement adequate and effective treatment is required. Treatment must meet three conditions: a humane psychological and physical environment, sufficient numbers of qualified staff and individualized treatment plans. Included is a Patient's Bill of Rights, now part of the accreditation of hospital standards.

Currently the state is required to provide hospital care only. The state has three psychiatric hospitals. Two are long-term care institutions and the other is focused on acute stabilization. They have waiting lists for admission which forces local hospitals to retain individuals longer than recommended. Budget cuts decrease qualified staff in treatment facilities.

Community services for care of mental illness are provided by independent agencies that contract with the state and must meet state standards for reimbursement. The need for coordination and communication is essential between the Department of Mental Health and the Departments of Corrections, Youth Services, the legal system, and substance abuse facilities. Individuals with serious mental illness may encounter any or all of these agencies in an effort to obtain care and protection.
Facts & Issues: Health Care in Alabama