LWVAL Offsite Voting Study


Six members of the State Study met with Secretary of State Beth Chapman in October. Alabama is one of the first states to allow military and overseas citizens access to registering to vote and to apply for absentee ballots via the Internet. This is being done through the Overseas Vote Foundation* (
www.overseasvotefoundation.org/
)
The Secretary of State also wants to offer military and overseas citizens the opportunity to vote online. She will be working with the Alabama Legislature in the upcoming session to get that bill passed.
The LWVAL Study Committee will be researching off site voting, absentee voting, and early voting in the coming months.
-- Sandy Robinson
LWVAL Past President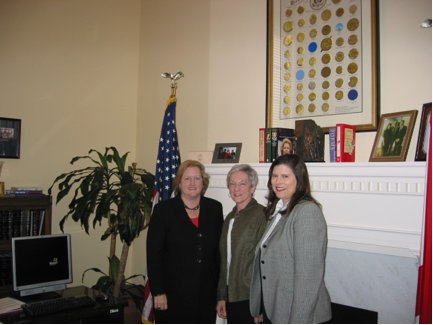 From the press release from LWVUS website at:
www.lwv.org/AM/Template.cfm?Template=/CM/ContentDisplay.cfm&ContentID=5761
League Joins New Alliance With Overseas Vote Foundation
Overseas Citizen and Military Voter Outreach Broadens
SANTA FE, NEW MEXICO
– Overseas Vote Foundation (OVF) today announced a sweeping list of new Alliance Partners including the League of Women Voters, the National Campus Voter Registration Project, the National Defense Committee, the Federation of American Women's Clubs Overseas and the Election Administration Research Center, University of California, Berkeley. The new OVF Alliance Partners join the National Association of Secretaries of State to establish a broad spectrum of support for Overseas Vote Foundation. Each OVF Alliance Partner furthers OVF's outreach efforts toward a new community of voters or voter-oriented organizations. All OVF Alliance Partners plan to run the VOTERTOOLSTM* Platform, targeted for release in August 2006.......
League of Women Voters (LWV)
http://www.lwv.org
:
"The League will work with OVF to reach overseas and military voters with a voter service message they can truly use. We are delighted to be able to run the VOTERTOOLS Platform on our Web site for the 2006 election – this marks the first time the League will have an effective way to reach overseas voters who may need our voter services," said Mary G. Wilson, President, League of Women Voters.....